Posted in Blog | 0 Comments
The Emotions That Cause Heart Problems
 Releasing The Hidden Emotions That Cause Heart Problems
Healing the cause of heart problems begins with understanding where it first originated.  The heart is a two-way pump that circulates and regulates the flow of life-force throughout the body. As the blood represents joy, any restriction can restrict the circulation of joy.
Therefore having heart trouble may mean taking everything to the heart or taking things too seriously.  This results in not allowing the proper flow in your life, as if swimming upstream against the current of life.  Love can be misplaced by trying to fulfil other peoples needs before your own.  This includes love.
Angina is a severe attack of pain over the heart due to oxygen deprivation.
A good symbol for this condition is the white rabbit in Alice in Wonderland by Lewis Carroll as he looks hastily at his pocket watch and complaining,

"I'm late, I'm late, I'm late for a very important date".
Angina reflects a high-performance perfectionist, always impatient and in a hurry.  The attacks are a strong warning that the attention is not where it should be, being outwardly extremely busy, while ignoring their inner world and their loved ones.
Arrhythmia is heart rate fluctuations comes from a self-made person who feels they have to handle everything themselves.  When things get out of control and beyond their coping capabilities, the result can be anxiety attacks and subsequently palpitations.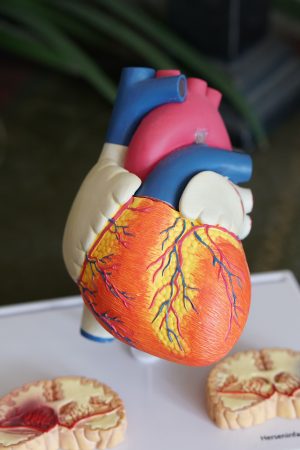 The Emotions That Trigger Heart Problems & Heart Attacks
Having been hurt in the past due to heartache and heartbreak, which can be kept in and not expressed. Especially in men, hence the very high male suicide rate.  Many have seen love as pain, as they have been too intertwined. When there has been physical or emotional abuse early in life, love can be seen as 'a poison apple' and a wall can be created around the heart in order to avoid further pain.  Unfortunately, nothing can get out.  The person can become 'hard-hearted', even though they may be sensitive and caring.
The other aspect of heart conditions can be caused by the loss which creates suppressed grief and emotional pain. This loss can have occurred after losing a loved one or a pet, which can affect people deeply. A break up in a relationship can also cause unresolved grief, sadness, and hurt. These are all "wounds of the heart" which creates a feeling of heavy heartedness.
The opposite of love is hate, which, when hidden, in time can cause a heart attack.  This does not mean it comes from a hateful person. This can be carried by an outwardly loving person who feels terribly wronged.
Positively, one of the secrets is to primarly forgive oneself and then forgive all those who have wronged you in your life.  This may seem a lot to ask.  However, the alternative is to drag that big, heavy 'ball of non-forgiveness' around forever.  When this has been done one will become 'light-hearted'. 

A good affirmation to repeat every day is, "I breathe love into myself."
I share more information about the Emotions That Trigger Heart Problems on my video.
By applying Energetic Wisdom methods, I have had a deeper insight into understanding the hidden emotions that cause heart problems and aiding people to clear these.
Read my blog on The Hidden Causes of Kidney Problems here .
Testimonial by Penny, North Wales
I wanted to thank you for the far reaching help you gave me. Following your treatment my mind healed itself, so now, all my niggles and worries and held onto baggage have melted and I feel that a huge weight has been lifted from my chest and shoulders.   My digestion has also improved.  It has had an effect on my interaction with people, I'm getting a much more positive result from meetings, and people are listening to me, so I'm getting the results that I've been working towards for many months.

I'm loving my new found confidence and my belief that I can achieve what I want to.

Read more testimonials by CLICKING HERE.
Reach Out Today & Transform Your Life.
---
My work as a Soul Whisperer is to help communicate with the soul's needs.  After more than 30 years as a therapist, I have devised my own unique and efficient ways of achieving this.  Tony Mills, Soul Whisperer.

We can meet in person, or over the internet, and even by distance healing. 
I have also had a great deal of success helping children.
View more of my articles HERE